Pokemon Type Generator
A random Pokemon type generator is a tool that generates Pokemon types by spinning the wheel. Let's pick up your Pokemon type in a fully unique way. You will choose your Pokemon after selecting the type. All 18 types of Pokemon are added to the wheel. The wheel looks so beautiful due to its fresh & bright color scheme that boosts up your gaming experience.
Are you confused or struggling with which Pokemon type to select? Looking for a new Pokemon type to add to your collection? Look no further other than this tool! This fun tool can generate a new, completely random pokemon type for you to use in any Pokemon game. Whether you're looking for something new and exciting, or just want to add some variety to your game, This tool is perfect for you! Try it out today and see what awesome types you can come up with!
Related Tool: Pokemon Type Calculator
Pokémon Types Database
let's enhance your gaming capabilities by using this awesome spinning wheel. It won't take more than a few seconds. All the types that are added to the wheel have equal importance in the Pokemon world and are generated randomly without any biased results. Also, we are permitted to utilize this spin again & again until you are fully satisfied. It is not a complicated tool to use, you just have to touch the wheel to open it for spinning.
Furthermore, you can share your wheel along with your friends by clicking the share icon. If you don't know about the weaknesses and strengths of the types of Pokemon, you can get assistance from our website as well. After spinning the wheel if that type is suitable as per your requirements, just go for it! Otherwise, you are allowed to spin the wheel again and again until you get your perfect type of Pokemon.
Additional Benefits Of Pokemon Type Generator Wheel
Standard Benefits:
This wheel will help you pick up the right Pokemon for your Pokemon team building.
All the types of Pokemon are easily available for further selection of Pokemon on the basis of type.
All slices of the wheel have a unique Pokemon type.
You can choose your Pokemon type in a fanatic way.
If you want to save time, this tool is the simplest choice for you.
You can share your results and wheels with your social family.
You can spin this tool unlimited times to get your desired Pokemon type.
It is a cost-free, error-free, and login-free tool.
Emotional Benefits:
You'll feel like a true Pokemon trainer with this tool!
You'll be able to show off your knowledge of all 18 types of Pokémon!
Take a break from reality and have some fun with this game.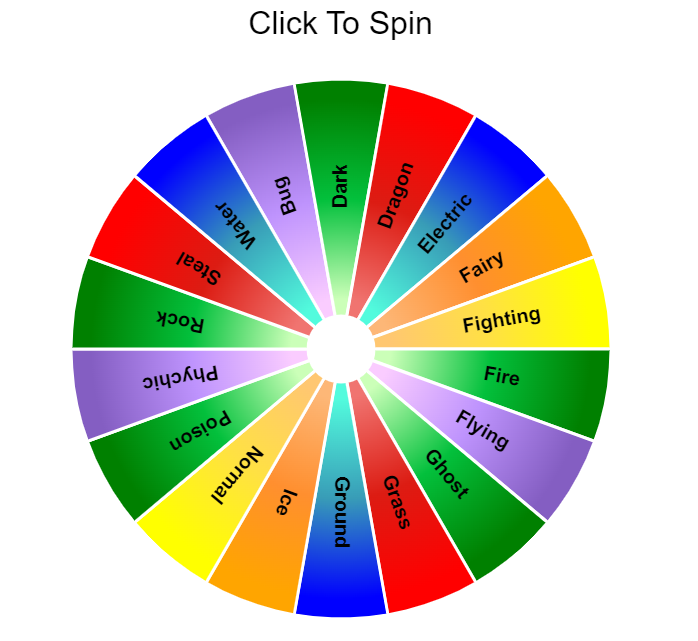 Method Of Using The Pokemon Type Picker/Maker:
It is very simple to utilize and even it can be easily understood by a child. But we are focused to come up with complete assistance. We are providing you with a mini-guidance regarding this Pokemon-type spin wheel.
Let's begin the process……
The first step that you have to take is that join us on our website Randompokemon.info You can connect easily if you are having a stable internet connection.
If you are landing on our site, let's move toward the top menu bar.
Here you will see a number of pokemon related tools but you have to look for a "Pokemon type generator".
Tap on the tool, the next page will be opened instantly.
Now, you can see a beautiful wheel displayed over the screen.
You'll be noticed that there are the slices on the spin wheel are having Pokemon types.
Your main process will start from this point.
You have to click on the spin button in the middle of the wheel.
Once you touch that spin button the wheel will start to evolve.
The spin will be stopped on one of the Pokemon types.
If you feel okay with this Pokemon time, go for it! Otherwise, spin again to get your desired Pokemon.
You can spin the wheel again and again at any time.
Frequently Asked Questions For Spinner Pokemon Type:
Yes! Here we are presenting a spinner pokemon, you just have to spin that wheel. It is a fun and amazing way just like as you are playing any of the spinning game..
Pokemon type spin a wheel is an awesome tool that would be able to select your pokemon type in just a few seconds.
Final Thoughts
So what are you waiting for? Spin the wheel and find out which type of Pokemon you should start collecting! And be sure to let us know in the comments how your new type matches up with your starter choice. Will you choose wisely, Trainer? It is a quick, simple, and fun tool to get your Pokemon type by spinning the wheel. It is a great innovation in the Pokemon world. Here you can get the ultimate guidance regarding the tool on the site. In case you are desiring to ask something about the tool, you can contact us! If you want to know about some new Pokemon details then check our Pokemon Database.
Furthermore, you can give us suggestions if you have some. You are allowed to be a part of our family.