Random Pokemon Generator Online Tool
What Is Random Pokemon Generator?
Are you struggling to find the best pokemon for a battlefield that full fill your requirements based on Pokemon types regions nature and many other factors? Congratulations you are at the right place we are providing a random pokemon generator tool to assist you to generate pokemon randomly based on many different filters to increase your easiness while choosing pokemon.
A random pokemon generator is a tool that allows users to generate a random list of pokemon. This can be useful for several reasons, such as helping to choose which pokemon to use in battle or simply for entertainment value. The generator works by selecting pokemon from a pool of available ones, with the probabilities of each pokemon being chosen based on its rarity. For example, rarer pokemon are less likely to be generated than more common ones. Users also have the option to specify certain parameters, such as the nature of pokemon or the level range. This ensures that the generated list is tailored to the user's needs. As a result, the random pokemon is a versatile and valuable tool for any pokemon player.
Pokemon is the most famous game in the world of gaming, so people are spending a lot of their time finding out the best pokemon for them to survive in any kind of fight on the battlefield. A random pokemon generator is developed on the demand of pokemon game users to generate Pokemon based on different Categories. Pokemon randomizer comes up with the options you can choose to filter your results based on your criteria and also gives you the Trainer. The random Pokemon generator has the functionality that allows you to choose the number of Pokemon you want to generate. Furthermore, you also have another amazing option for the pokemon finder to filter out your results. Randomize the Pokemon by choosing regions and types very easily. While deciding between regions and types, you can also select all regions and all types and our tool will generate the best pokemon for you.
Step No 1: Select Pokemon Type
If you are not sure about which type you need to select before generating pokemon or not sure which type is suitable for so firstly you need to get proper information about it or simply just use our random pokemon type generator and randomly select any pokemon type and use it here for your desire type pokemon based on type filter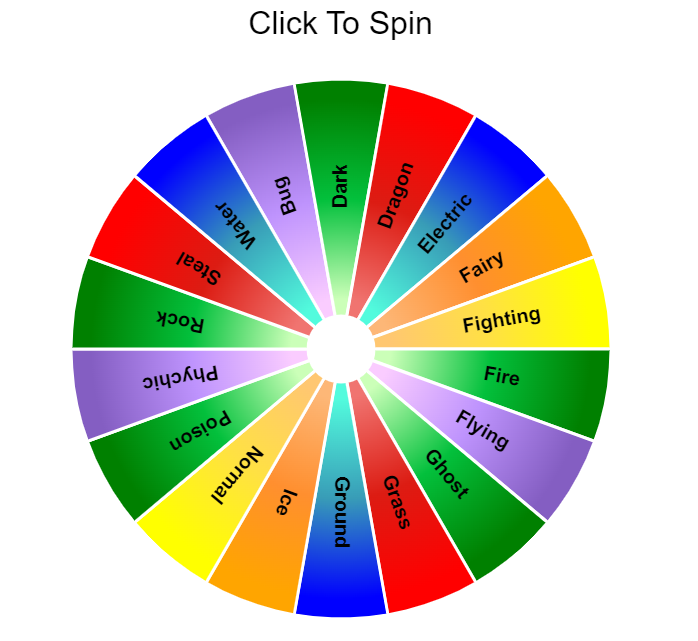 Step No 2: Calculate Pokemon weakness
Successfully! You select your pokemon Now what is the next step? Now check your pokemon weakness against other types of pokemon to ensure that the pokemon you select is best for your survival on battlefield and make all the possible combinations to face any type of opponent pokemon. Once the battle starts you have all the possible option for any kind of condition.
Try Tool:  pokemon weakness calculator
Tips: Experience pokemon trainers always keep all kinds of pokemon in backup to compete in any kind of condition in the fight.
Step No 3: Analyze Pokemon Damage power
Another Survival tool is the pokemon damage calculator with the help of this tool you identify the damage percentage of your pokemon against other types of pokemon eg Fire type pokemon does not perform well against water type pokemon so ensure which type of pokemon hurt yours more in a fight and calculate it before dig down into a fight. Your damage calculation gives you an edge on other trainers because calculated data perform always well.
You can test your pokemon damage with this Pokemon Damage Calculator.
Step No 4: Check Type Weakness and strength
The next and very important step is to analyze your pokemon name against its strength and weakness in all available types for example your pokemon is Pichu this tool tells you Pichu is more resistant and immunity against steel electric and flying and weak against ground type pokemon.
Test your pokemon type weakness with this tool.
Step No 4: CP Calculation
In this step you can check all pokemon evaluation with CP, HP, ATT, DEF and STA with total multiple stats . This tool hep you to predict your future planning with any specific pokemon with there evaluation history and future powers
Visit: CP Calculator
Step No 5: Make your Pokemon Team
Finally you have everything to make your powerful pokemon team so no-one can undo your power in challenge. pokemon team builder is a tool to build your pokemon team simply click on all pokemon you decide and select them one by one our website store data in URL you can share that URL with your friend and anyone you want to play game.
Exceptional Features of Random Pokemon Generator
This is a brilliant tool for any Pokemon fan. Not only it allow you to create teams of random Pokémon, but you can also specify certain criteria, such as Uber, pokemon move set, and many more. This makes it perfect for creating wild encounters or for coming up with new ideas for training your team. In addition, the generator is constantly being updated with new Pokemon as they are newly released, so you'll never run out of options. Whether you're looking for a challenge or just want to add some variety to your game, the Random Pokémon Generator is the perfect tool for you.
Random Pokemon  comes with many amazing features let's discuss some here.
You can select how many pokemon to generate:
Our online tool permits you to select how many Pokemon to generate. It's totally up to your need and choice. you are on the exact platform, where you can select a minimum of one Pokemon, or a maximum of six Pokemon.
You are free to choose your pokemon region
pokemon region generator is another Amazing feature is region selection you can select your favorite region and results is generated on the basic of selected region .Region selection can help you to train yourself in specific area under certain condition.
The following Regions are available in this random Pokemon generator. You are permitted to select one region of your choice. The available pokemon regions are as below, let's have a look at these superb regions.
Unova
Kanto
Jhoto
Hoenn
Sinnoh
Sinnoh (plat.)
Unova (B2W2)
Kalos
Alola
Alola (USUM)
Galar
Types of  pokemon generator
An amazing feature we provide to select types of pokemon from the list. These all are available types of Pokemon in this random Pokemon generator. You can also pick up all types as randomizing criteria. Now generate your pokemon by using this amazing feature. All the types are up to the mark according to your demand. Each of the types is different from another one due to some specific reasons & functions. All types of the random pokemon generator are listed below
Bug
Dark
Dragon
Electric
Fairy
Fighting
Fire
Flying
Ghost
Grass
Ground
Ice
Normal
Poison
Psychic
Rock (USUM)
Steel
Water
Ubers: 
Ubers is special power pokemon having extra powers and characteristic  You can select Ubers as a tier for the generator to pull from. Few of the players are more practical to undo Pokemon from the Uber tier as they were deemed too strong & powerful or destabilizing to the OU metagame to permit. Due to the reason that Ubers can make it very difficult & complicated to counter fairly and sensibly, also, you might be elected to leave this box unchecked while generating your random Pokemon.
Not Fully Evolved (NFE): 
This feature is also known as "NFEs". This group has most Pokemon that have not quite reached their final evolution stage and don't use on regular and maximum bases, so they don't have enough utilization to appear in any tier. Not a tier but more of a collection of Pokemon without intense utilization even in the lowest tier.
Pokemon natures:
Here is an amazing feature of the tool that is pokemon nature. You are free to select to turn Natures on or off while the process of generating your random Pokemon. It's an important feature in the generator because a Pokémon's Nature can impact the value of two of its stats, upgrading one of its non-HP stats, and reducing another one. Each Nature of this amazing tool represents one of 25 unique practicable combinations of stat increase and decrease. A Pokémon's nature can't be changed once it is generated, so generate it wisely.
Here is the list of 25 pokemon natures:
Hardy
Lonely
Brave
Adamant
Naughty
Bold
Docile
Relaxed
Impish
Lax
Timid
Hasty
Serious
Jolly
Naïve
Modest
Mild
Quiet
Bashful
Rash
Calm
Gentle
Sassy
Careful
Quirky
Some additional features;
You can set the forms & sprites option as well to make ghost type pokemon and dark type pokemon. It's all depends upon you whether you use this feature or not. It's a cost-free tool that you may take as a gift from us. We allowed you to join us without any personal login. Generate your pokemon through any of the browsers and devices. You can generate your desired pokemon in a fun way, while in the process you won't get bored. All the features are free of difficulty and error, and complexity. We are damn sure that you are not going to face any difficulty while generating your pokemon. All the superb functions, features are possible due to our extraordinary mechanism.
Instructions for using Pokemon Generator
This video also demonstrate how gamers use this tool to generate random pokemon and use them in battlefield. This is very hard approach to use random pokemon in battle
It is not a tricky process but for your comfort, we are giving you the whole tutorial how to use this tool. After reading these instructions you will be able to generate your pokemon very easily. So, what you are waiting for? Come on, join us and use this amazing tool.
You just have to follow these steps one by one:
✅ At first, visit our website  Random Pokemon by using any of the browsers of your choice.
✅ Now, here you can see a tool by name of "Random pokemon generator"
✅ Click on it, the screen regarding the tool will be shown up.
✅ Let's focus on the setting because it will lead you to get your desired pokemon.
✅ Enter the value of pokemon you want to generate in the option of "generate". Choose in between 1 to 6.
✅ Select type & region also. You can also go for the setting of ubers, NFEs, sprites, and nature options.
✅ After all the selection you just have to click over the "generate" button over the screen.
✅ Now, see your results & enjoy your pokemon game with your own created pokemon.
✅ There is no limitation on using this tool, you are allowed to generate pokemon again & again.
✅ You can share it along with your social friends & family by using the URL link that is developed only for our valuable users.
Frequently Asked Questions
Few frequently asked questions about random pokemon generator.
Random pokemon is an amazing tool that is used to generate pokemon on the basics of multiple filters.
Numbers of Pokemon
Regions
Types
Uber
Types
Spirtes
Natures
Forms
Random Pokémon Generator is a perfect tool that generates a random sequence of Pokémon names, types, and regions on your own selection & creativity level. You can efficiently generate pokemon of your choice by using this tool.
This tool will generate random Pokémon by region, type, and much more. Here you will get the number of setting options. Random Pokémon Generator Generate 123456Pokémon. All Regions are Kanto, Jhoto, Hoenn, Sinnoh, Sinnoh (Plat.) Unova, Unova (B2W2), Kalos, Alola, Alola (USUM) and Galar. You can pick it up as per your choice and need.
The Universal Pokemon Randomizer is an extraordinary program that would give you a new experience playing Pokemon games. It will upgrade your gaming fun to the next level. In the same vein as previously released randomizers, it provides a customized gameplay experience by allowing you to randomize many things: The Starter Pokemon selections.
Competition is an essential part of Pokemon, and racing your friends to complete a particular random Pokemon game can be a superb experience. By sending a couple of pieces of text or a small file you can easily make sure that everyone has the same game to play with, without having to send around the entire ROM every time..
Random pokemon generator is a free of cost online tool that will allow you to generate a random Pokemon or a random team of Pokemon. For those who came here searching for a random list of Pokemon, you're on the ideal platform or site. We are providing you a list of 25 random Pokemon from the hundreds available. The random list you see isn't what the next person will see. we are hoping that this list will be very helpful for you to upgrade your gaming adventure.
Conclusion:
We are hoping that this write-up will assist you to use the random pokemon generator. Furthermore, here are several strategies & usage guidance on how to generate your pokemon. All the required information is discussed in this article, read it with full concentration and let's generate your own pokemon in a fun way, upgrade your gaming experience, and share this amazing tool with your friends and social families.